Transport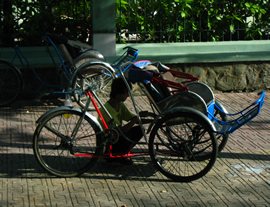 As Ho Chi Minh City is a densely populated place, travelling may seem hard for first-time visitors, especially as the roads are almost continuously blocked by motorcyclists.

Tan Son Nhat International Airport
The best way for most people to get to Ho Chi Minh City would be by plane. Tan Son Nhat International Airport is the largest airport in Vietnam by number of passengers handled. Generally queueing time to get through immigration is quite short as there are many desks, and luggage collection time isn't too bad. Free Wi-Fi is available, but only in some locations, and it isn't always reliable. There are some shops and cafes there, but they are overpriced. Once you get out of the arrivals hall, there are a few money exchangers, which compete quite highly with each other in conversion rates, meaning the rates will never be too bad. Remember to ask if there's a commission fee, as this will raise the price. It is also possible to use USD, which is quite widely accepted in Ho Chi Minh City. Then there are the taxis; and here is where you lose your money if you're not careful. Only go for reliable taxi companies, and use the taxis with meters to avoid being ripped off. See below for more tips on taking taxis.

How To Get Around Ho Chi Minh City
Transportation around Ho Chi Minh City is perhaps slightly more inconvenient than in other cities around the world, however, there are some options.

Taxis
From The Airport
Many travellers have reportedly been scammed at the airport by taxi drivers. The price of a metered taxi ride from the airport to the city centre is about 150,000 dong (~$7.2 USD). Previous travellers have recommended Mah Linh (mostly white with green lettering) and Vinasun (mostly white & green with red lettering) as being reliable companies. However, due to the commercial success of these companies, several clones of both companies have been set up, with similar names such as Mah Lin, or Vinasum.

In The City
Taxis are in abundance in Ho Chi Minh City, and are usually not too hard to find, although it can be more tricky at rush hour or when there's heavy rain. If you can't find a taxi, try to go to the nearest tourist hotspot or commercial area. Due to the fact that taxi companies are aimed towards local residents, the companies do try to be reliable. However, due to the number of taxis, some drivers are dishonest

Cyclos
Also known as cycle rickshaws, bike taxis, velotaxis, becaks, or trishaws, cyclos in Ho Chi Minh City are basically reversed tricycles. (The type which carries passengers, not the one which children use!) Hired by the hour, and normally carrying a single passenger, cyclos do give you a different experience of Ho Chi Minh City, especially as there isn't very much between you and the vehicle in front. As the government is trying to shut them down, cyclos are disappearing.
Unfortunately, there are some cyclo drivers who try to scam tourists, either by asking for a higher price than was agreed at the start, or by taking tourists to places where they get paid for every customer they bring in. An average price for a tourist is around 40,000 VND/hour. Also be careful of bag snatchers, usually on motorcycles, whilst you are on a cyclo.

Buses
Not very many tourists use buses, as they are normally rather confusing, with everything being in Vietnamese. Fortunately, there is now a free "Ho Chi Minh City Bus Route Diagram" available from Ben Thanh bus station. I believe that it may be in Vietnamese, but from what I've seen, combined with an English map of Ho Chi Minh City, it's quite easy to figure out. Also, most locals are willing to help, even though English may be a bit of a problem for them. Fortunately, once you've managed to get onto the correct bus, they are efficient and economical. The bus may be slightly worn down, but a ride on a bus should cost less than $1 USD and will be safer than a taxi, as well as possibly being faster due to its size, and right of way.

Vehicle Rental
In Ho Chi Minh City, the predominant way of transportation is by motorbike or motor scooter. It is possible for a tourist to hire a motorbike, however, Ho Chi Minh City is known for its hectic streets full of motorists who don't seem to follow the law.

Walking
Walking around Ho Chi Minh City can be a nice experience as you can get to see the street stalls and shops used by locals. However, there are also streets which are lined with shops like Armani, Chanel or Gucci, which are basically the same as any high-end shopping street in the world. The biggest problem is probably traffic. As mentioned above, they don't follow the law; not just by speeding, but by running red lights, driving on pavements or on the wrong side of the road, and by cutting in front of any vehicle slower than itself.

Thankfully, there is help on hand, in the form of the "Tourist Security Officers" who are dressed in green, wearing blue caps. They will help you cross the road, as well as give directions to any lost tourist if need be. Also, the language barrier shouldn't be too much of a problem as all officers are required to learn English and Chinese, although some officers may still be in the process of learning. If there aren't any officers around, your next best choice would be to try and find a local who is also crossing the road, and to follow their lead.

Failing both of the above choices, walking across the street by yourselves isn't too bad. The trick is to find a slight gap in the traffic, and then walk at a constant pace across the road, letting the motorcycles weave around you. Stay alert, and check all around you, not just left and right, when crossing. If a motorcycle gets close to you, or you hear a 'beep' close by, just be ready to slow down or go around the motorcycle. Try to avoid crossing the road when there are too many cars, buses or trucks around. Remember, pedestrians rank below buses, trucks and motorcycles in terms or right of way on the road and, to some extent, on the pavement.

As always, there is a chance of pickpockets or robbers, so do keep your belongings in sight. The Tourist Security Officers will help you to get your possessions back if they were stolen, but if the thief is not caught in the first one or two hours, don't be surprised if it isn't found.

Boat
Another way of viewing or travelling around the city would be to hire a boat. Hired by the hour, boats can be chartered from $8 USD an hour up to ~$20 USD an hour for a larger, faster boat. However, there are some boats which may go rather slowly, as they are getting paid by the hour. There is also a regular ferry service every half an hour or so, from 4:30 am to around 10:00pm between Bach Dang jetty and Ð Ham Nghi. The main downsides are that the boats aren't the safest boats in the world, and that the Saigon River has a lot of rubbish in it. That being said, it is still an interesting way to discover Ho Chi Minh City.

Maps
Most hotels have a free map of District 1, normally available from the reception, but these maps are normally filled with advertisements and vary in quality and detailedness. Some larger bookstores may also have maps of the city.