Shopping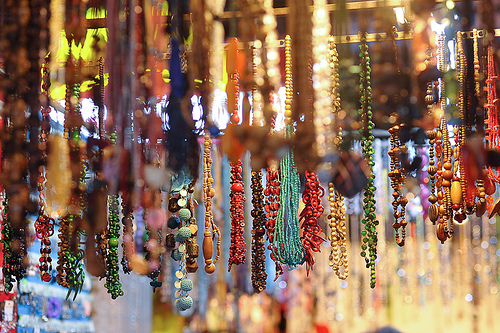 Bursting with all different types of shops, from roadside stalls and street vendors, to markets, to shopping arcades, Ho Chi Minh City has lots of differing products and sellers to choose from.
Markets
As one of the oldest buildings in Ho Chi Minh City, the building dates back to 1912, but the market can be traced back to the 17th century, when a number of street vendors gathered on the bank of the Bến Nghé river. This location was destroyed by a fire, and the market was moved to where it stands today in 1912. The 17th century version of the market reportedly sold more food and groceries, whereas today's Bến Thành Market sells more souvenirs and decorations suited towards tourists.
Bình Tây Market
Situated in Chinatown, it is the largest market in Ho Chi Minh City. Getting lost is almost inevitable, and most of the fun!
Shopping Malls
Ho Chi Minh City has a few large shopping malls, which are normally aimed at tourists or the rich and wealthy Vietnamese businessmen, although some shops will be frequented by locals.


Vincom Centre
Opened in 2010, Vincom Centre is the biggest shopping mall in Vietnam. With 26 storeys and about 58,000 sq metres (~624,300 sq feet) of floor space, a wide range of products are on sale here. Famous multinational companies have opened branches here, however, due to the fact that the building is so big, lots of local stores have been set up as well. What this basically means is that you have a choice of buying things from Armani or Versace, as well as being able to pick up cheap toys, clothing or other accessories, including some which may well have 'fallen off the back of a lorry'. As well as shops, Vincom Centre also houses offices and several western restaurants, such as Popeye's Fried Chicken and Carl's Jr. Hamburger. There are also several coffee shops and restaurants. The biggest problem is that prices can be rather high in this mall, and it can feel rather empty, especially on working days.
Opening hours: 9am -10pm
Address: 72 Le Thanh Ton and 45A Ly Tu Trong Street, Ben Nghe Ward, District 1

Diamond Plaza
Diamond Plaza also hosts many famous brands, but attracts more visitors as it has more shops suited to local Vietnamese people. Featuring a cinema and a food court, western food is also available here, such as KFC and Pizza Hut. As the cinema (Lotte Cinema) is one of the largest in Ho Chi Minh City, it is quite a modern set-up, with the latest movies being shown there (although probably in Vietnamese!).
Address: 34 Le Duan Street, District 1

Stalls/Street Vendors
Street vendors are mainly found around tourist spots, such as the markets mentioned above. However, they are rarely around any government sponsored or government run tourist attractions such as museums as they are seen by the government